---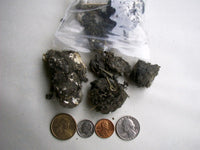 These are 3" by 4" baggies (or larger bags with the same amount) that are stuffed full of half pellets, bones, chunks and pieces.
Your students will  get to open up the bag and pull apart the pellet pieces and discover what owls eat! One to three  students can share a bag. A baggie we took apart included 6 Skulls (1 Bird), 16 Jaws, 9 Hum., 5 Shoulder Blades, 11 Hip, and much more! And that was just a quick look!

When it is all about economy the bargain bags filled with loose bones and partial pellets will be for you! This picture is an example of the typical quality of what you will get in a bargain bag of pellets.