---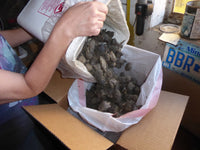 About 16 1/4 Quarts. To get a picture of it, I put in over a 5 gallon bucket of bargain pellets in a box! Particularly good for those who repack or large events. Shipping could be reduced. Write first. (Can ship 2 at a time, please write.)
Cube boxes of Bargain Pellets are stuffed full of half pellets, bones, chunks and pieces.

The Bargain pellets are #2 quality pellets that break apart because of what they hit when they land. Some just break anyway or they have been partly eaten by bugs. We cook all pellets to destroy all bug or any other thing that could be in pellets.
Our estimate is from 617 to 682 students. The way to make it work is to set out pellet piles on paper plates or some other container before starting. Also to have the students share bones. For example one student will find 2 or more skulls and another zero. So trading or sharing can also be taught.
An alternative is to have them work in groups of 2 or more. 

Pellets should last for years when kept dry and bug free. Store in an airtight container.

We have several container sizes of "Bargain" type pellets.